AllCore360 Training System with our College Park Chiropractor
Dr. Michael Thomas uses the AllCore360 machine at Relief and Rehab Center of Atlanta to strengthen our patients' core without all the torturous and time-consuming workouts. The most effective way to reduce and even avoid back injuries is by ensuring you have a strong core which supports good posture, provides a solid base for most of your movements, and lessens the risk of back injuries.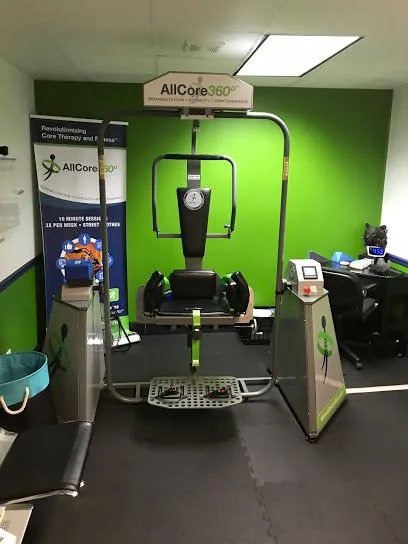 Why Not Just Exercise?
Most core exercises strengthen muscles that only move in one direction. Your body is designed to move in multiple directions and AllCore360 activates core muscles in a balanced way. The machine is designed to provide strong core contractions that activate deep layers of muscle tissue.
Many who use the AllCore 360 find that one 360-degree rotation is enough to make them sweat and have a complete core workout. Advantages of using the AllCore 36o include:
Create a universally-beneficial routine that is customizable
Use isometric rather than isotonic contractions
Leverages your body weight against gravity
Cause no additional harm and is pain-free

Will it Hurt?
Quite the opposite. The AllCore360 machine was invented and designed by Scott Bertrand, D.C. after he suffered two separate core injuries that required several rounds of painful rehabilitation. Even if you have experienced a back injury, the AllCore 360 enables you to maintain a strong back and abdominal muscles without adding to the discomfort you already have.


Is the Machine Difficult to Use?
Not at all. You remain seated at all times and Dr. Thomas will help position you into the machine.


Can the AllCore 360 Be Used Along With My Regular Chiropractic Care?
Dr. Thomas often uses the AllCore360 in combination with other spinal care services such as gentle chiropractic adjustment and spinal decompression. Your injury, spinal health, and personal goals determine the use of the machine in combination in addition to chiropractic care. If you have a herniated disc are other disc concerns, the AllCore 360 may be the treatment of choice for you. As you move against gravity it reduces spinal pressure and improves core strength.

Get Started with AllCore360 Core Strengthening with our College Park Chiropractor
To learn more about how AllCore360 can help with your core strengthening, contact Relief & Rehab Center of Atlanta today. Schedule an appointment with our chiropractor in College Park to determine if AllCore360 training is suitable for you. Call us at (404) 766-0676.