Prevent Back Injuries with The AllCore360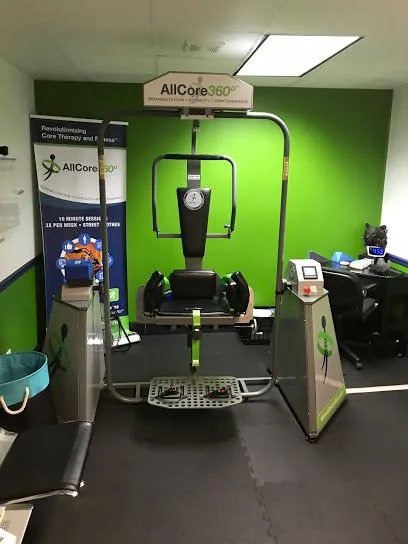 One of the easiest and most effective ways to reduce back injuries is by having a strong core. Your core muscles support proper posture, provide a strong base for many of your movements and lessen your risk for back injuries. Many core exercises only strengthen these muscles in one direction, but the body is made to move in multiple directions. At Relief and Rehab Center of Atlanta, our chiropractor, Dr. Michael Thomas, uses the AllCore360 machine to strengthen your core in multiple directions. The AllCore360 manipulates you through three planes of motion to activate your core muscles in a balanced way. Whether you are new to exercise or are a seasoned fitness participant, you will feel the workout from the AllCore360. Many who have used the machine, such as Randy Cohen, have discovered that one 360-degree rotation, is enough to make you sweat and provide a complete core workout. Mr. Cohen's core fights against gravity to support his body position as the machine slowly rotates him. Much like trying to stay upright and balanced on a roller coaster, but at a much slower pace, the AllCore360 is designed to provide a strong core contraction that activates deep layers of muscle tissue.

Core Strengthening
Dr. Michael Thomas may use the AllCore360 in combination with other spinal care services such as spinal decompression and gentle chiropractic adjustments. Or, he may suggest the AllCore360 as a separate service. Your spinal health, your injury and your personal goals will determine the frequency and use of the machine in combination with chiropractic care. The AllCore360 is a pain-free way to strengthen your core muscles, so even if you are experiencing a back injury, you are able to maintain strong abdominal and back muscles without increasing your discomfort. The AllCore360 is also helpful when you have disc concerns such as a herniated disc. The machine reduces spinal pressure as you move against gravity to improve core strength. Our chiropractor helps position you into the machine and you remain in a seated position. The AllCore360, rotates until you return to an upright position and your goal is to maintain a stable pose until the rotation is complete. As this happens, your abdominal muscles contract and you may notice a slight shaking in the muscles as they struggle to resist gravity's pull. This occurs without discomfort and you will feel the strength improvements.

Get Strong and Avoid Back Injuries - Call us Today!
We look forward to showing you how a strong core supports spinal health by keeping muscles balanced, flexible and firm. You notice a reduction in your injury risk when your core is strong and able to support all of your intended and unintentional movements.
For example, during a slip and fall, a strong core helps to protect your back and may prevent the fall altogether. To learn more about The AllCore360 or to schedule an appointment with Dr. Thomas, please call us today at (404) 766-0676.